Trading platform
Web Trader
Well designed and modern Web terminal for CFD-trading. Forget about downloading ans setups. Start trade in seconds!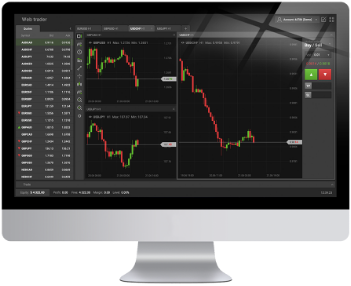 Benefits
Quick start without pre-installation on PC. All the tools for proper market analysis. 100+ trading instruments are available Integrated protection from DDoS-attacks
Trading panel for quick deals. Launchable in any browser. Color scheme customization
CFDs with "By Trend"
What is trading platform?
The trading platform allows you to trade financial instruments like currency pairs, crypto-assets, securities, and others. It has all the necessary tools for technical analysis of the markets and can be installed on your home PC, office laptop, tab-PC or even at your iPhone or Android phone.
Is it looks like Metatrader?
All modern trading platforms are completely the same. So if you are used to trading in Metatrader, you do not need to learn our trading platform. Intuitive interface, the quick trading panel right in the chart window, over 100+ tools for analysis and the perfect modern design will help you to start trading immediately without long acquainting with its functions.
Can I try it for free?
You can try all the functions of our trading platform for free. Just launch the Web Trader and log in as a guest. You will get virtual 10 000 USD and be able to trade and open all the abilities of trading with our platform.
Go to the Specifications >
Warning! Trading is risky. Get acquainted with our internal policies! >
Open an account to start trading CFDs with "By Trend"
Mini
Recommended minimal value 500 USD
Minimal trading volume is 0.01 lot
Cashback - 3 USD per lot
10% bonus at every replenishment
Open an account
Midi
Recommended minimal value 2000 USD
Minimal trading volume is 0.1 lot
Cashback - 4 USD per lot
20% bonus at every replenishment
Interest on the balance - 1%
Open an account
Maxi
Recommended minimal 5000 USD
Minimal trading volume is 1 lot
Cashback - 5 USD per lot
30% bonus at every replenishment
Interest on the balance - 2% monthly
Open an account